Day 1)
An Azul Travel representative will welcome you at the airport and will provide transportation to your hotel in San José. We are about to begin our journey.

Day 2)
Transfer to Arenal (BF,L,D)
What better way to start our adventure in Costa Rica than through a land of endless green forests with rivers and waterfalls of crystal clear water up to the Arenal Volcano, the most active volcano in the country. You might even hear its roar or see the lava at night.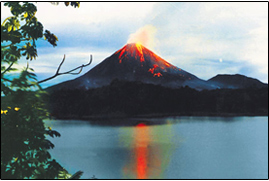 Before arriving, we stop briefly in a beautiful town called Sarchi, the artisan's land where you can admire the beautiful oxcarts that Costa Rica is known for.. You can see the traditional handmade Costa Rican art work and also have time to buy the famous candy of Sarchí.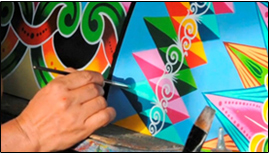 When we arrive at our first destination, lunch will be waiting for us on a Volcano sight resort followed by the relaxing hot springs of Baldi Aqua Spa.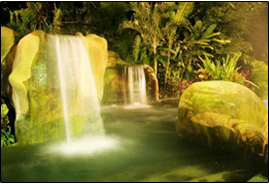 Colorful gardens and natural sounds will surround you as your skin absorbs the volcanic mineral waters and removes toxins from your body. During this process you will be surrounded by an atmosphere of peace and a natural environment. Then, we will enjoy a delicious buffet dinner and transportation to the hotel.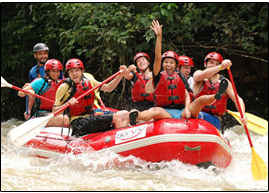 Day 3). Rafting at Río Toro 3-4. Bring on the adrenaline!!! (BF,L)
Challenge yourself as you paddle through fun and safe rolling rapids with names like "Morning Coffee" and "Rock around the Croc",then relax and play around in tranquil river pools in an isolated rainforest river canyon!

Toro River explodes with a series of over 45 continuous, class 3-4 rapids – you'll spend more than 2½ hours rafting through unexplored, tropical wilderness on a personalized, small-group tour along more than 16 kilometers of deep-canyon gorges and waterfalls where sloths, monkeys and tropical birds, such as toucans and the Montezuma Oropendulas are often seen.

Breakfast will be provided at the hotel and pick up is at 8:30 am. Once on the river, our experienced guides will give you a safety talk, get you set up with your helmet, life jacket and paddle and then you're off – you'll be paddling for more than 2½ hours – we'll stop along the way for a delicious tropical fruit snack and afterward we will take you out for a typical Costa Rican "casado" lunch. You'll return to La Fortuna and the Arenal Area around 3:30-4:00pm, (Can also be a 3-2 class river) . The rest of the day you are free to enjoy the hot springs. Check Tour video above.
Check Out a Rafting Rio Toro Video!:

Day 4). Travel to Monteverde. (BF)
Monteverde is a whole different world above the coastal towns that dot the country's famous shoreline. It is a place of cloud forests and coffee plantations, monkeys, mist, and friendly locals. The town of Santa Elena is small and quaint, filled with tasty restaurants and folksy artisan shops, while the nearby rainforest hosts a remarkable amount of biodiversity. After arriving, the rest of the day you are free to explore the beautiful Town of Santa Elena.
You will then fly through 15 cables and 18 platforms with an optional Tarzan Swing at the end of the adventure. Selvatura Park is one of the longest
Canopy Tours in Costa Rica. Also it is the only canopy tour located inside the Monteverde Cloud Forest.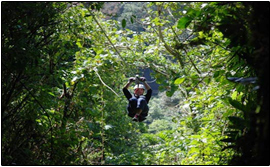 Second, Selvatura's Tree Top Walkways consist of a 1.9 mile (approximately 3 kilometer) trail that crosses through the Monteverde Cloud Forest.

Day 5. Cloud Forest Adventure Selvatura (Canopy and Tree Top Walkways) (BF,L)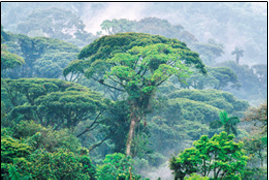 After having a complete and energizing breakfast at the hotel, we are ready to start our cloud forest adventure at Selvatura Park.
Ready to fly? This tour is one of the safest extreme adventures in Costa Rica!

Our Canopy Tour guides start by harnessing you with all the appropriate equipment after which they will teach you about all the safety procedures to enjoy this amazing adventure with our "Safety First" motto.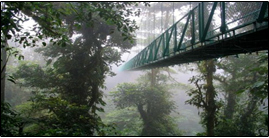 Each bridge has a width of five feet, the widest bridges in Costa Rica , and also a capacity of up to 80 people per bridge making them both the longest and strongest bridge system in the Monteverde Cloud Forest. The Tree Top Walkways are suitable for people of all ages.
Check Out This Video

Day 6. Breakfast at Monteverde, then time for white sand, surf and sailing through the blue Pacific at Tamarindo beach!!! (BF).

After riding white waters on fiery lands and flying through the green mystic mountains with a bird's eye view, we are ready to sail on the blue Pacific Ocean and surf amongst the waves of Tamarindo beach at the beautiful North Pacific of Costa Rica.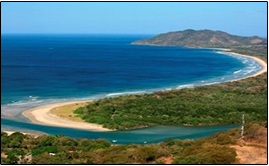 Tamarindo has all the amenities of a Costa Rican beach town: surf, sand and sun, sun, sun. It offers, however, so much more. It is the ideal place for honeymoons, weddings, couples and families vacations. The town is wonderfully suited for eco-adventures, boat rides, beauty spas, art galleries, crafts and pottery stores. A multicultural community, Tamarindo has several bakeries, outdoors vegetable markets and more than 40 restaurants. Whether you like to eat vegetarian, 'Tipico' Costa Rican, Italian or Sea Food, you can find it here in Tamarindo.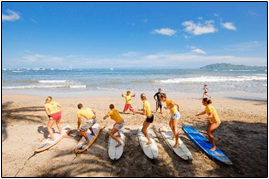 After a 2 hour lesson, you will have the rest of the day to enjoy the beach. Check out some surf videos.
Video Tamarindo Surf School!:

Day 7. Tamarindo Surf School (BF).
On the coastline of the Guanacaste peninsula, there are probably a few waves with your name on it, and the Tamarindo School of Surf will teach you to ride them with just one lesson.
Tamarindo Surf School is the first of its kind in Costa Rica. Their unique teaching method is based on experience and knowledge acquired over years of study and surfing. This is a friends and family activity for all ages. All of their surf instructors are Ticos (local Costa Ricans). This means your surf lesson will not only be conducted by an experienced surf instructor who knows the local breaks, but by one who will also give you some exposure to the Costa Rican culture.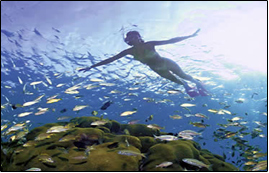 An open tour to bring your friends or meet new friends from other parts of the world. Starts at 1:30pm
Silently glide along Costa Rica's golden coast while passing some of Guanacaste's exotic bays, white sand beaches and tropical jungles. Gaze off the bow with a cold tropical drink prepared and served by our crew as you scan the seas for dolphins, sea turtles, flying fish or even a breaching whale.
We will make a stop at a tranquil bay, drop anchor and frolic in the ocean. You can snorkel in the bay or run down the deserted white sand beach while the crew prepares a feast of chicken or pasta salad, fruit, chips, guacamole and homemade chocolate chip cookies. At sunset, the Marlin Del Rey catamarans will set sail again and you will hear the waves slide along the giant catamaran as you watch the sun set, illuminating the clouds still in the sky. Bring your camera and capture the moment everyone talks about when on board the Marlin Del Rey catamarans.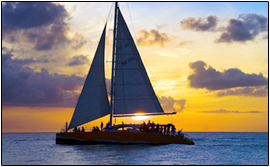 Check out Marlin Del Rey Catamaran videos here!:

Day 8). Sailing through the sunset on the all-inclusive Marlin Del Rey Catamaran. (BF,L)
We saved the best voyage for last. After an amazing adventure in Costa Rica with your friends or family, is time for you to sail the blue waters of the Pacific Ocean with the friendliest crew.
Day 9). Tavel to Hotel in San José. (BF)
Free morning to enjoy of the beach and then ride back to San Jose in the afternoon.

Day 10). Travel to Airport for departure.(BF).