Day 1. San Jose, Hotel Presidente.
Reception at the airport by a representative of Costa Rica Travel Blue followed by a 20 minute transfer to the Presidente, located just meters from major attractions such as museums, theaters, souvenirs, restaurants, etc.


Day 2 and 3, Hacienda Pozo Azul adventure in the rainforest.

All meal times are included in Pozo Azul.
Hacienda Pozo Azul is one of ecological and adventure destinations for excellence in Costa Rica. Here you will enjoy an atmosphere full of nature, with first-class equipment and trained to provide a safe and unforgettable experience guides.
All its activities are operated with the highest levels of safety, service and with great respect for nature
During his two-night stay in this magical place you can enjoy the following activities:
Day 4, 5 and 6,
Among trees and vegetation of the Caribbean jungle they will be waiting a cozy eco-lodge and many activities.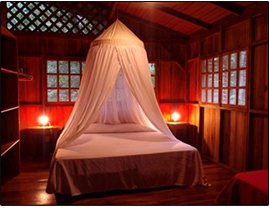 La Kukula Lodge, listed by their visitors as a magical and inspiring location, here you can rest and relax, have breakfast listening to the sounds of the jungle, watching what you eat one kukula (lazy), swim in the pool watching the toucans feed or read a book while resting, hear sounds, and go have observed kukulas toucans.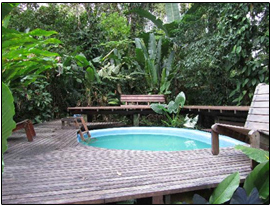 You can also enjoy many other optional activities during your stay, such as:
• Dolphin watching
• Walk back to Punta Mona boat
• guided snorkeling tour
• Surf
• Excursion to the Caribbean coast by kayak!
• Caribbean dance classes
• Caribbean cooking classes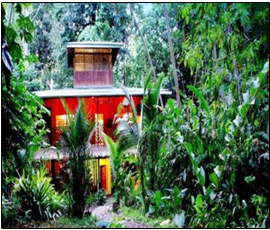 In Kukula Lodge I have included breakfast and other meals on their own to enjoy the famous cuisine of the area.
Day, San Jose
Drive back to San Jose in the morning. Once in San Jose, the day is yours to do what you like. You can visit one of the galleries and museums (optional - tickets not included) try one of the many restaurants or just go to sightsee.
Day 8, Exit
Transfer to the airport for your return flight.
Just steps from the Lodge will be facing with magnificent Caribbean Sea, golden sand, turquoise water and the Bay of Playa Chiquita where you can almost hear the sound of calypso music.
In this area there is an activity that definitely cannot miss, that is Snorkeling in Cahuita and walk through the rainforest, which is why we have included in the program and can see its description and photos here.