Pacuare Lodge, you can bird watching, walking, swimming, fishing, exploring the rainforest canopy, visit a traditional indigenous community or just relax. Most guests stay for two or three days with packages, however, you can also visit the lodge without descending the Pacuare River, making it an excellent choice for families with young children and other travelers who prefer not to make the trip down the rapids.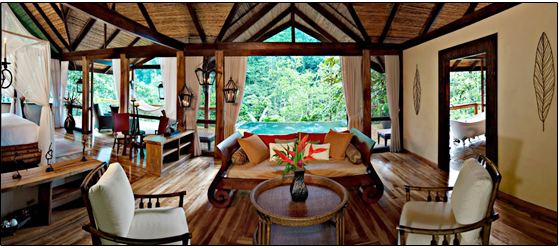 The eco-friendly Pacuare Lodge bungalows are surrounded by lush tropical foliage, stay between the river and our private nature reserve, which protects 300 hectares (740 acres) of primary rainforest.
The buildings are made of wood tree farms and palm leaves collected in the rainforest by our neighbors Cabécar Indians. Each bungalow combines sustainable practices such as water heated with solar panels and low-impact septic systems with comforts such as orthopedic mattresses and spacious bathrooms.
Ask about our special rates for honeymoon packages in the Pacuare River.